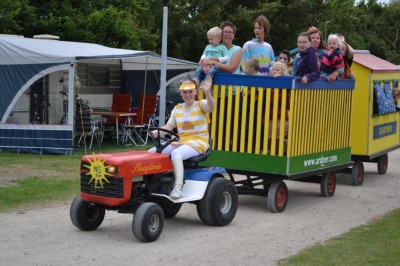 Wagon rental
Off for a nice day at the beach with the kids, the dog, a chilly bin, a parasol, a wind screen, towels, toys...urr, yep. With a wagon you can bring it all!Rent one at reception for 6 euros a day.
Playgrounds
Air trampoline, vollyball field, panna cage, skatecourt, climbing and clattering equipments, slides, campsite 't Noorder Sandt provides it all. You don't have to feel bored here at all.
Kids Theatre and 'nightnight train'
Psss! Can you here the 'nightnight train' yet? It'll take you to the Theatre of laughter, Noor & floor will go on the funniest adventures. Are you coming? Look here to have a peak at our animation programme.
Do you want to book for a period longer than 3 weeks? Contact in that case the camping itself directly by phone or email.