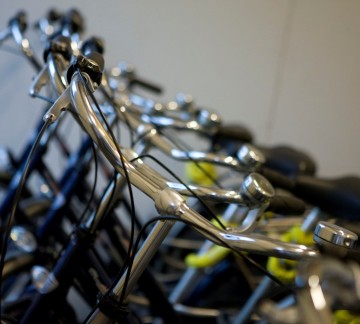 Rent a bike and explore the surrounding area!
Our campsite sits on a beautiful walking and cycling route, taking you through the middle of the bulb fields and Nature Reserves. Rent a bike and enjoy the space and quiet provided in ' The Kop van Noord-Holland' (the head of North-Holland). Also you'll be in the dunes and at the beach from 't Noorder Sandt in no time to enjoy the sea breeze!
A bike without gears is EUR 7,00 per day (24 hours)
A bike with gears is EUR 8,00. Kids' bikes can be rented from EUR 5,00 per day.
't Noorder Sandt sits at the adventurous walking kayaking cycling and riding path 'Duinvliet'. So rent a kayak, bring your picnic basket and paddle away! Either to Julianadorp or to Den Helder aan Zee, along the colourful bulb fields and through the Nature Reserves. Renting a kayak for 2 only costs EUR 5,00 per hour and EUR 12,50 per 3 hours.
Do you want to book for a period longer than 3 weeks? Contact in that case the camping itself directly by phone or email.